Affirmative action action
Ok, so the real exciting part was meeting Dinesh and having him sign my copy of "What's So Great About America."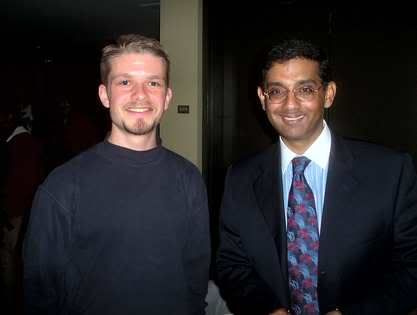 I must say, being taller than him was like having my cake an eating it too.
The debate with Tim Wise was great. Too bad Mr. Wise's biggest points were only backed up with eye-rolling, crude language and assenting jeers from the crowd instead of real facts and reason. Joshua (my friend with whom I will travel to DC next month) showed up and I ended up sitting with him on one side and Tony Russo and Alanna Ahern--two prominent liberal AS board members (Russo is on the way out thankfully). Oh the irony: they only know me as a reporter, so I felt a little compelled to stay my enthusiasm for some of Mr. D'Souza's zingers.
Tonight was the ultimate expose of liberal political correctness on campus... Gasps whenever Dinesh would say something out of the ordinary like, "the founders weren't racists." ... You get the point. I, having already read many of his arguments, was glad enough to see what the real reaction is when they are employed.
Now I am forewarned.